Caffeinated Desserts That Your Taste Buds Will Thank You For
Breanna

New York is home to many wild attractions from the classics such as the Statue of Liberty and Times Square, to scenes that are often overlooked such as the Brooklyn Flea Market. While there are several must-see events all over the island there are also crazy food contraptions that call the city home. From cookie shots to cronuts, the city has come up with several treats to satisfy your cravings. On top of good food there are good drinks. You know you are a real New Yorker when you can't survive without your daily cup of joe. In New York you are never a block away from a coffee shop. For coffee addicts and food lovers alike, we've found NYC shops that have combined coffee with deserts.
If you are just visiting or are a New York local, check out these caffeinated treats that you'll want to add to your bucket lis
1. Ferrara Bakery: Tiramisu Cannoli
The classic Italian cannoli takes a sharp twist at Ferrara Bakery. This bakery offers a variety of cannoli flavors from chocolate to cheesecake, but the tiramisu is on the top of our list. Dipped in chocolate and soaked in coffee, this Italian bakery in Little Italy will have you feeling apart of the family and coming back for more. People all over the world have been popping in just for a bite of these cream-filled pastries
2. Laduree: Coffee Macarons
Macron madness started in 2011, but Laduree's perfection started in 1862. Best-known for their seller of the double-decker macron it is no surprise that they offer a coffee flavor that is included amongst the other fifteen thousand macrons they sell per day. Sit down and an enjoy a coffee with your treat or create your own collection to take and enjoy in the privacy of your own home.
3. Sprinkles: Cuban Coffee
Cupcakes are a classic treat that New York has put its own spin on. From Magnolia's Bakery to many more. "New York" and "cupcake" just go together. Sprinkles Cupcakes is one of the best places for a perfectly moist treat, and their Cuban Coffee cupcake will put an extra pep in your step. This Belgian light chocolate cake is topped with dark roast coffee frosting and notes of cinnamon and coco. Add a cup of milk and you'll start your morning on the right foot.
4. Momofuku Milk Bar: Coffee Shake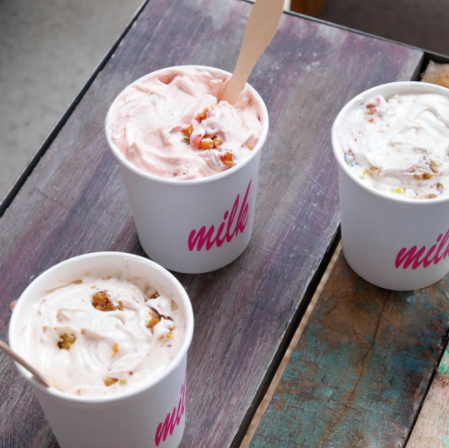 Momofuku Milk Bar, an NYC dessert laboratory. This milk bar creates concoctions like the crack pie and compost cookie. No one truly understands what is going down here, but everyone knows it's great! The soft serve milkquakes are their latest rave. Enjoy the coffee shake: cereal milk shakes with cold brew coffee blended in it, topped with anything you like. Order this when you're wanting something decadent. #treatyoself
5. Doughnuttery: Urban Monkey Doughnut

They are small so no one will judge you if you eat a dozen. Doughnuttery's bite size doughnuts have a home in Chelsea Market, Columbus Circle, The Plaza Hotel and soon to be your stomach. You can watch employees fry and coat donuts with your toppings, but you can also go straight for the Urban Monkey doughnut. Coffee, banana, and coconut – this tiny delight will have you wanting more with your cup of coffee and milk.
6. 10 Below Ice Cream: I Love You A Latte Rolled Ice Cream
10 Below Ice Cream has helped put rolled ice cream on the map. Why not try this beat-the-heat treat rolled and coffee flavored? Serving a traditional Thai food that most American's have not had with loads of toppings 10 Below is a must try especially the I Love You A Latte. This is their  house brewed coffee and condensed milk with your choice of toppings. Head down to Chinatown, NY for this 'grammable coffee dessert.
7. Eileen's Cheesecake: Chocolate Cappuccino
New York cheesecake ranks among the city's most iconic foods, along with New York pizza, and the best bagels in town. While it is not hard to find a good slice, one of the city's best cheesecakes can be found at Eileen's Special Cheesecake. Using a traditional New York recipe passed down from her mother, Eileen Avezzano has crafted a rich and creamy marriage of chocolate and cappuccino to make a wonderful treat! Order a slice or a while pie just for yourself (No judgement here).
8. Kith Treats Brooklyn: Coffee Crunch Milkshake
Kith Treats is located inside of Kith clothing store. At their cereal bar, you can order cereal that comes with a variety of toppings such as marshmallows or brownie bites. Along with their special soft-serve ice cream and milkshakes you can make your own soft-serve creation. First, choose between ice cream or a milkshake. Second, choose from several cereal options to mix in. Captain Crunch, Cocoa Puffs, to Special K. Third, mix in anything you want from cookie dough to s'mores. The Coffee Crunch milkshake special is a must try on our list. Crushed coffee ice, cinnamon toast crunch, Twix, and La Colombe Coffee. Talk about options.
9. Levain Bakery: Sour Cream Coffee Cake
Levain Bakery has become famous for their melty, gooey chocolate chip cookies, but their twist on pound cake will have you drooling as well. Levain's sour cream pound cake has a sweet cinnamon-brown sugar swirl that will give make you smile, especially once the coffee flavor sips into your taste buds. This creamy cake has been featured on The Cooking Channel's Unique Sweets.
10. Thistle Hill Tavern: Mocha Affogato
Thistle Hill Tavern's Mocha Affogato deserves a place on our coffee lover's desserts dream. A glass of Brooklyn's best, Caramello Italian Gelato, is served with a strong cup of espresso that taste as if it was made to be enjoyed as a caffeinated delicacy. This dessert will have you up 'till dawn.